Archive for March, 2010
Monday, March 29th, 2010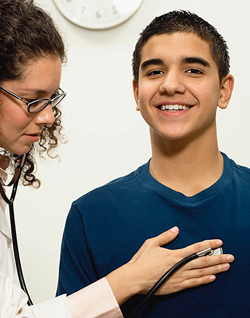 It's School Physical Time In Northern California!
It's school physical time and if you're looking for Redding-area doctors who provide physicals, two area providers can help you with easy online appointment request forms to get your school physicals scheduled.
Lassen Medical Group has offices in Red Bluff and Cottonwood. You can request a school physical online at the Lassen Medical Group website.
Shasta Orthopaedics specializes in sports physicals for individuals and teams or groups. To request an appointment contact them at 246.2467. For group rates, please ask for the Office Manager, Kathy Davis.
If you are a Redding doctor who provides school physicals, we'll be adding a contact form soon so you can be included on future lists.
Thursday, March 25th, 2010
Redding doctor Ray Powell, MD, has coined a term to help everyone – especially those interested in healthy weight loss – to eat better. Dr. Powell is a bariatric physician and also is the Medical Director of the medical weight management clinic Physician's Plan.
The first thing Dr. Powell teaches his weight loss patients is that they have to eat. Through his technique of snealing, Dr. Powell teaches people to maintain their nutrition and energy levels by eating smaller, high quality sneals (not snacks) throughout the day.
Learn "The Easy Way to Eat Right." Learn to Sneal at Dr. Powell's website, CarbEssentials.net.