Archive for February, 2015
Thursday, February 5th, 2015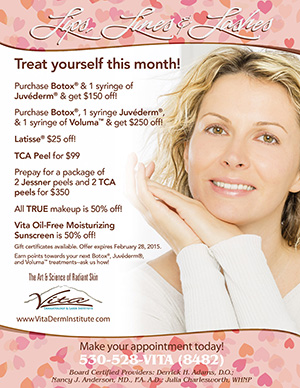 February Cosmetic Dermatology Specials At Vita
Treat yourself this February! Vita Dermatology has some great new Cosmetic Dermatology Specials available through the rest of February 2015.
The available specials are:
» Purchase Botox® & 1 syringe of Juvéderm® & get $150 off!
» Purchase Botox®, 1 syringe Juvéderm®, & 1 syringe of Voluma™ & get $250 off!
» Latisse® $25 off!
» TCA Peel for $99
» Prepay for a package of 2 Jessner peels and 2 TCA peels for $350
» All TRUE makeup is 50% off!
» Vita Oil-Free Moisturizing Sunscreen is 50% off!
Monday, February 2nd, 2015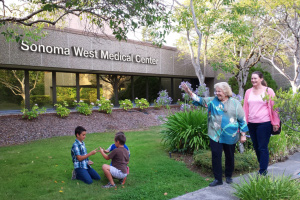 Sonoma West Medical Center
This spring, a much needed new medical center is coming to west Sonoma County. The Sonoma West Medical Foundation is working hard to bring back high quality healthcare to the area through a comprehensive medical facility. With an active fundraising campaign already underway, the goal is to open the new Sonoma West Medical Center in April of 2015.