Archive for the 'Nor-Cal Think Pink' Category
Saturday, October 1st, 2011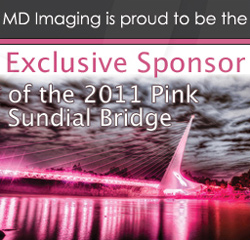 The Pink Sundial Bridge
MD Imaging us proud to be the exclusive sponsor of the 2011 lighting of The Pink Sundial Bridge at Turtle Bay in Redding, Ca. The lighting of the Sundial Bridge is presented by Norcal Think Pink in support of Breast Cancer Awareness.
Thursday, November 5th, 2009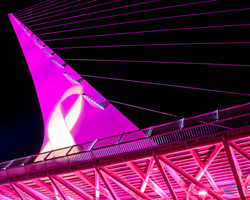 Nor-Cal Think Pink has presented a Photo Contest for everyone who attended the pink lighting of Santiago Calatrava's Sundial Bridge in Redding, California on Think Pink Day, October 15th, 2009.
View Think Pink Photo Contest Page.
Who Can Participate in the Photo Contest?
Anyone who took photos related to the pink lighting of the Sundial Bridge is invited to upload as many photos as they like (prior to deadline of November 27th, 2009).