Nor-Cal Think Pink Sundial Photo Contest
Posted on
November 5, 2009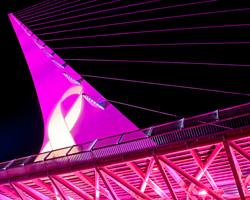 Nor-Cal Think Pink has presented a Photo Contest for everyone who attended the pink lighting of Santiago Calatrava's Sundial Bridge in Redding, California on Think Pink Day, October 15th, 2009.
View Think Pink Photo Contest Page.
Who Can Participate in the Photo Contest?
Anyone who took photos related to the pink lighting of the Sundial Bridge is invited to upload as many photos as they like (prior to deadline of November 27th, 2009).
How Are Winner's Selected?
Winner's of the contest will be determined by the general public; anyone who visits the website can vote for as many photos as they like by giving each photo a rating of 1-5 stars. Each star adds one vote to that photo. Visitors can only vote once for each photo.
The web application that allows people to upload photos and videos was developed by marketing agency Abra Marketing as a marketing tool to help Nor-Cal Think Pink develop a more ongoing communication about the importance of early detection as a defense against breast cancer. Nor-Cal Think Pink has made a huge impact, literally saving lives by helping more people in the North State aware of the importance of early detection. A video of one of the breast cancer survivors who was helped by the many volunteers of Nor-Cal Think Pink can be viewed on the Nor-Cal Think Pink website.
Established in 1997, Nor-Cal Think Pink handed out 40,000 Think Pink bags on Think Pink Day 2009.
Because early detection of breast cancer is a year-round effort, Abra Marketing is working with Nor-Cal Think Pink to create more opportunities to extend its message beyond the annual October Breast Cancer Awareness Month.
To learn more about Nor-Cal Think Pink, volunteer and support opportunities, or join their list for email updates, visit NorCalThinkPink.org.