Posts Tagged 'Makeup'
Saturday, February 6th, 2016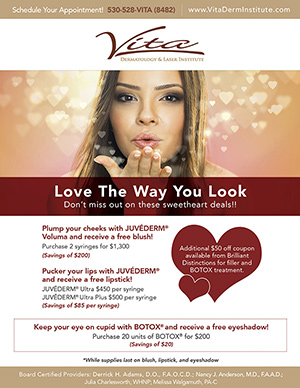 February Cosmetic Dermatology Specials At Vita
Do you want to love the way you look this February? Now through February 29th, 2016, Vita Dermatology in Red Bluff has some awesome specials on cosmetic dermatology treatments such as Botox, Juvederm, and Voluma. With a purchase of some of the packages, you can also get FREE lipstick, blush, or eye shadow!
Wednesday, November 26th, 2014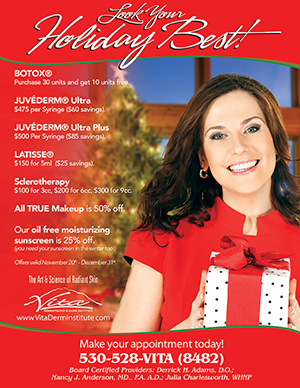 Cosmetic Dermatology Holiday Specials At Vita
Sparkle and shine for the holidays! Vita Dermatology has some great new Cosmetic Dermatology Specials available through the rest of 2014.
The available specials are:
» BOTOX® – Purchase 30 units and get 10 units free.
» JUVÉDERM® Ultra – $475 per Syringe ($60 savings).
» JUVÉDERM® Ultra Plus – $500 Per Syringe ($85 savings).
» LATISSE® – $150 for 5ml ($25 savings).
» Sclerotherapy – $100 for 3cc, $200 for 6cc, $300 for 9cc.
» All TRUE Makeup is 50% off.
» Oil free moisturizing sunscreen is 25% off.