February 2016 Cosmetic Dermatology Treatment Specials!
Posted on
February 6, 2016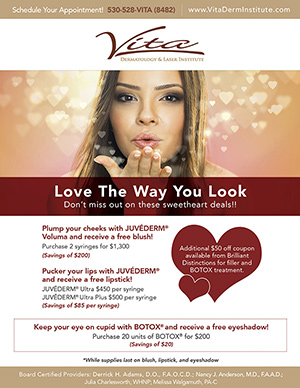 February Cosmetic Dermatology Specials At Vita
Do you want to love the way you look this February? Now through February 29th, 2016, Vita Dermatology in Red Bluff has some awesome specials on cosmetic dermatology treatments such as Botox, Juvederm, and Voluma. With a purchase of some of the packages, you can also get FREE lipstick, blush, or eye shadow!
The available specials are:
» Plump your cheeks with JUVÉDERM® Voluma and receive a free blush!
– Purchase 2 syringes for $1,300
(Savings of $200)
» Pucker your lips with JUVÉDERM® and receive a free lipstick!
– JUVÉDERM® Ultra $450 per syringe
– JUVÉDERM® Ultra Plus $500 per syringe
(Savings of $85 per syringe)
» Keep your eye on cupid with BOTOX® and receive a free eyeshadow!
– Purchase 20 units of BOTOX® for $200
(Savings of $20)
Visit the Vita Dermatology Blog for more information.
If you would like to make an appointment, visit the Vita website or call 530-528-VITA (8482) for more information.