2012 Relay For Life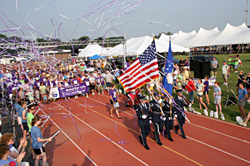 MD Imaging's 2012 Relay For Life
MD Imaging held it's 2012 Relay for Life Event at Shasta College in Redding.
MD Imaging would like to thank everyone who participated in the June 9th Relay for Life Event. The participants honored cancer survivors, remembered those who have been lost, and also raised funds and awareness to help in the fight against cancer. The fundraiser surpassed it's $5,000 goal as over $10,000 was raised!
The Relay For Life Raffle
MD Imaging holds a fundraising raffle alongside the event, and would like to congratulate the following raffle winners:
The Karat Patch pendant: Gloria Lopez.
The Get Out and Play Bike and raffle basket: Kathy Lack.
Family Fun basket: The LeBaron's.
The Home Improvement stuffed wheel barrow: Ellen Griffin.
The Tree of Life: Edie Schultz.
Backyard BBQ fun: R.D. Hill.
SF Giants Basket: Rhonda Mills.
Kindle Fire: Marijo Platt.
For more information and pictures from the event, visit MD Imaging's Facebook or the MD Imaging Website.