2013 Go Redding Luncheon For Your Life
Posted on
January 24, 2013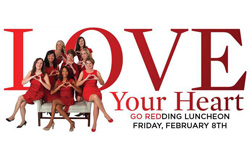 Come Join The 2013 Go Redding Luncheon For Your Life On February 8th!
MD Imaging is proud to sponsor the 2013 Go Redding Luncheon! Go Redding is a luncheon to provide women with information on how to be "Heart Smart" and make it a goal to fight against heart disease. The Key Note speaker will be Dr. T. Colin Campbell, author of the China Study and featured in the movie Forks over Knives. Dr. Campbell will discuss how diet and diseases are related, and how food can be used as medicine.
2013 Go Redding Luncheon Information
When: Friday, February 8th, 2013
11 a.m. – Health & Beauty Boutique Shopping
Noon to 1:30 p.m. – Luncheon
Where: Holiday Inn
1900 Hilltop Dr., Redding, CA
2013 Go Redding Luncheon Tickets
Tickets: $45 (includes goody bag and admission to the showing Forks over Knives at the Cascade Theatre 7 p.m. that evening)
For more information on purchasing tickets, please visit the following link http://www.shastaregional.com/about-us-events_go-red.html.