Northern California Radiology Practice Gets Involved!
Posted on
November 16, 2012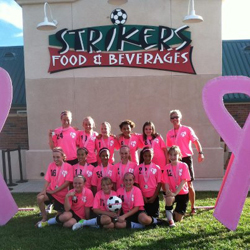 MD Imaging Gets Involved With The Northern California Community!
2012 has proved to be an active year for Redding Radiology Practice, MD Imaging, as they have taken part in some great local community events. Below are just some of the activities they have had the pleasure of putting on, sponsoring, or participating in…
2012 Relay For Life – On June 9, MD Imaging held it's 2012 Relay for Life Event at Shasta College in Redding, Ca to raise awareness for cancer.
The Sundial Bridge Lighting – On Thursday, October 18th, MD Imaging proudly sponsored Think Pink Day lighting of the Sundial Bridge at Turtle Bay in Redding.
2012 Shasta Halloween Think Pink Shootout – On October 27th and 28th, MD Imaging donated pink uniforms to the 2012 Shasta Halloween Think Pink Shootout. The Shootout is an all girls soccer tournament that welcomed girls from Northern California, Nevada, and Oregon.
For more information on MD Imaging's community involvement, please visit their website or their Facebook page.