Physical Therapy And Wellness In Red Bluff
Posted on
October 16, 2012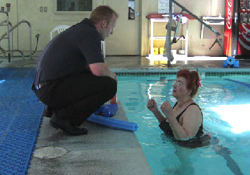 Physical Therapy And Wellness Center In Red Bluff
Tehama Family Fitness also offers a private, locally owned physical therapy clinic to the residents of Northern California.
Are you in the Red Bluff area and needing physical therapy? There is a facility in Red Bluff providing patients with comprehensive evaluations, individualized treatment plans, and personal attention. Staffed by a professional team of experienced, licensed physical therapists, physical therapy assistants, athletic trainers, and exercise physiologists, The Physical Therapy and Wellness Center is devoted to providing high quality physical therapy to the Northern California community.
You can visit the Physical Therapy And Wellness Center at:
2490 South Main St.
Red Bluff CA 96080
Physical Therapy Services
The Physical Therapy And Wellness Center staff is trained to provide specific treatments to encourage rehabilitation. A plan is created that works just for you and your needs. Some of the services available are the following:
Spine Care
Post Surgery Rehabilitation
Hand Therapy
Orthopedic Manual Physical Therapy
Aquatic Therapy
Pediatric Physical Therapy
Sports Medicine
… and more!
To learn more, visit the Physical Therapy And Wellness Center website.