Vita Skin Care Products In Red Bluff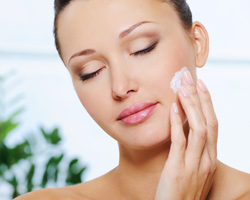 Vita Boutique Skin Care Products
Skin Care Created by Medical Professionals
Did you know there is a boutique skin care line available right here in Northern California?
The physicians at Vita Dermatology have created their own private label skin care products. They use pharmaceutical grade ingredients to help you achieve noticeable results faster than with other products.
Treat Your Skin
The following Vita skin care products address everything from troubled skin, dry and aging skin, to sun protection:
Benzoyl Peroxide Wash 10%
Gly-Sal 2-2 Pads
Ultra Lite Moisture Dew Cream
Oil-Free Moisturizing Sunscreen
Antioxidant Sunscreen for Face and Body
Fortified Moisturizer
The Vita skin care line follows strict FDA regulations and is tested in-house, to provide a higher quality than products you can buy over the counter.
To learn more, visit the Vita Dermatology website, or stop by the Vita location to purchase.