Halloween Open House!
Posted on
October 7, 2016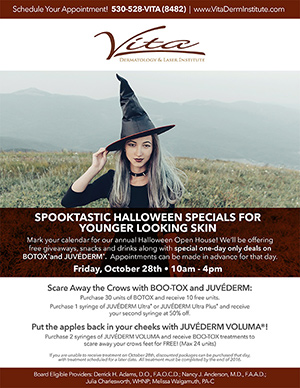 Halloween Cosmetic Dermatology Specials At Vita
For one day only, on Friday, October 28th, 2016, from 10am to 4pm, Vita Dermatology in Red Bluff, will be having a Halloween Open House. They will be offering free giveaways, snacks and drinks along with special one-day only deals on Botox, Juvederm, and Voluma.
The available specials are:
» Scare Away the Crows with BOO-TOX and JUVÉDERM:
– Purchase 30 units of BOTOX and receive 10 free units.
– Purchase 1 syringe of JUVÉDERM Ultra® or JUVÉDERM Ultra Plus® and receive your second syringe at 50% off.
(Reg. $800)
» Put the apples back in your cheeks with JUVÉDERM VOLUMA®!
– Purchase 2 syringes of JUVÉDERM VOLUMA and receive BOO-TOX treatments to
scare away your crows feet for FREE! (Max 24 units)
Visit the Vita Dermatology Blog for more information.
If you would like to make an appointment, visit the Vita website or call 530-528-VITA (8482) for more information.