A New Medical Center Is Coming To Sonoma County!
Posted on
February 2, 2015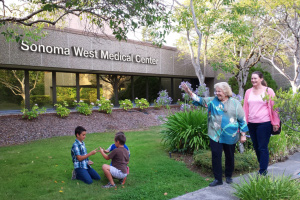 Sonoma West Medical Center
This spring, a much needed new medical center is coming to west Sonoma County. The Sonoma West Medical Foundation is working hard to bring back high quality healthcare to the area through a comprehensive medical facility. With an active fundraising campaign already underway, the goal is to open the new Sonoma West Medical Center in April of 2015.
The new medical center will offer services such as a No Wait Emergency Room, an Intensive Care Unit, Hospitalist Services, Telemedicine, General Acute Care Services, and much more. With a goal to combine the best medical care available with convenience, Sonoma West Medical Center will also provide helipad access to Oakland Children's Hospital for pediatric emergencies, and have a convenient call center for patient education and advocacy.
Learn more about the Sonoma West Medical Center »
Sonoma West Medical Foundation
Formerly known as the Palm Drive Health Care Foundation, the Sonoma West Medical Foundation is dedicated to improving the health status of all residents in Western Sonoma County with hospital care, medical care, health improvement and health education. They are committed to energizing the community in support of Sonoma West Medical Center as the center of wellness and disease prevention as well as clinical and emergency medical care for all Western Sonoma County Residents.
If you would like to be a part of bringing this medical center to the community, visit SonomaWestFoundation.org to learn how you can get involved!