New Orthopedics Facility In Northern California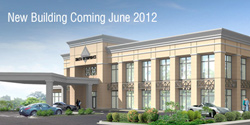 Introducing the New Shasta Orthopaedics
New Orthopedics Building Coming In June 2012
In June of 2012, Shasta Orthopaedics will be opening a brand new orthopaedic center in Redding, California. The 56,000-square-foot facility will offer patients treatment in everything from diagnostic services to physical therapy services at one location, and is the only facility of its kind in the greater Redding area.
The new Shasta Orthopaedics' Liberty St. location will combine the following facilities:
Shasta Orthopaedics' main office at 1238 West St.
The Shasta Ortho Spine Institute at 2701 Old Eureka Way
Liberty Physical Therapy at 405 Redcliff Dr.
This new center is part of Shasta Orthopaedics' commitment to provide world-class, patient-focused orthopedic care to Northern California.
To learn more about this new Northern California Orthopedic Center, please visit the Shasta Orthopaedics Website.