3D Mammography In Red Bluff And Cottonwood, California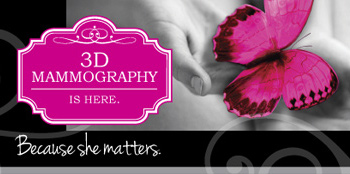 Lassen Medical Group offers 3D Mammograms For Northern California Women
The American Cancer Society estimates that 1,665,540 new cancer cases will be diagnosed in the United States in 2014. The earlier that breast cancer can be detected, the greater chance we have at fighting it.
Lassen Medical Group offers a new and advanced type of mammogram called 3D Mammography. It uses a technology called Breast Tomosynthesis, that produces a three-dimensional view of the breast tissue and gives doctors a greater ability to more thoroughly examine the breast tissue. This increases the chances of a more accurate diagnosis and of earlier detection.
Lassen Medical Group is now accepting appointments for 3D mammograms, so if you would like to make this important decision for your health, please call 530-527-0414, or visit the Lassen Medical Group Website.