Finding A Good Physical Therapist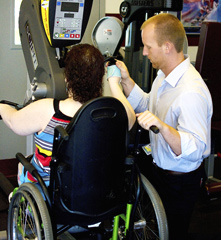 Red Bluff Physical Therapy Testimonials
When you are suffering from pain, or have an injury, where you go for physical therapy is crucial to your freedom from pain or recovery from your injury. How do you find a physical therapist that you can trust with your healing?
One way is through word of mouth from others who have had experience with a specific therapist or therapy clinic. The Physical Therapy And Wellness Center in Red Bluff, California, cares about it's patients and works hard to help each of them heal and recover, and in return, some of those patients share their gratitude with testimonials. So if you're in the Red Bluff area and in need of physical therapy, check out a few kind words from their patients:
"Throughout my career as a professional bullfighter in the PBR and PRCA, injuries are an every weekend occurrence: broken lower legs, torn rotator cuff, and knee surgeries. In my line of work, if I'm not working someone else is making my pay. Ed and the boys at the Physical Therapy & Wellness Center cured, fixed and did what needed to be done to get me back into action. Thanks for all the hard work and dedication over the years."

– Joe Baumgartner
Professional Bullfighter
"I have been very pleased with the physical therapy I have received at Physical Therapy and Wellness Center. The therapists are always up to date with the latest techniques and the equipment is state of the art. They also take the time to thoroughly explain goals and techniques. I really appreciate the therapists' willingness to answer questions after treatment is completed and give me tips on how to continue the exercises at home. After treatment is completed, they offer membership to the Wellness Center at an affordable rate. The entire office staff is friendly and efficient. I have had nothing but positive experiences at this facility and will definitely be coming back in the future if the need arises."

– Tim Fletcher
View more Physical Therapy Testimonials at their website.
If you would like to make an appointment, visit the Physical Therapy And Wellness website or call 530-529-3636 for more information.