Motivating Women To Get Mammograms!
Posted on
December 28, 2012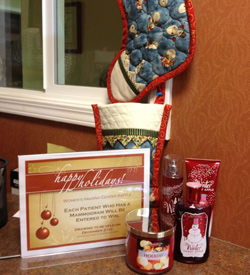 MD Imaging Gets Creative To Motivate Local Women To Get Mammograms
This holiday season, MD Imaging, a Redding California radiology center, got creative to motivate local women to take charge of their health and get mammograms.
The MD Imaging Women's Imaging Center held a raffle where each woman who had a mammogram during the month of December was entered into a drawing for handmade stockings full of products from Bath and Body Works! If taking care of your health isn't motivation enough, pampering yourself with free Bath and Body Works goodies just might be!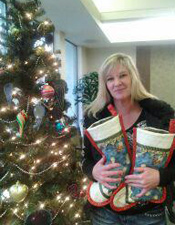 And The Winner Is…
On December 21st, MD Imaging selected a winner of the raffle. This lucky lady in the photo to the left won two stockings stuffed with goodies made by Barbara Kersey, a mammographer. Congratulations to the winner, but also a big congratulations to all the women who made a positive choice and had mammograms in the month of December!
If you would like to schedule your own mammogram, please call 530-243-1249, or visit the MD Imaging Website for more information.