New Pharmacy In Weaverville!
Posted on
December 28, 2012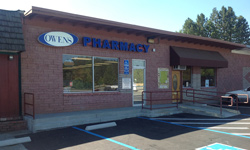 Owens Has Opened A New Pharmacy In Weaverville
Owens Healthcare has expanded it's reach with a brand new pharmacy location in Weaverville, California. The new location offers much needed pharmacy convenience to residents who live in the Weaverville and Trinity County area.
Visit The New Owens pharmacy
The new pharmacy is located on Nugget Lane off of Main St. at:
80 Nugget Lane Ste. A
Weaverville, CA 96093
You can fill your prescription online for this location!