October 30th, 2014
Verena "gleepface" Hallam's Invisalign Journey
First question you're asking yourself, "who is Verena Hallam and what is a 'gleepface'?" Verena is a blogger from the United Kingdom who has a fashion and beauty blog called gleepface.com. Now the second question you're asking is, "what does Miss Hallam have to do with me?" Well, if you wish your teeth were straighter, or if you've considered getting Invisalign, then Verena is your girl.
October 27th, 2014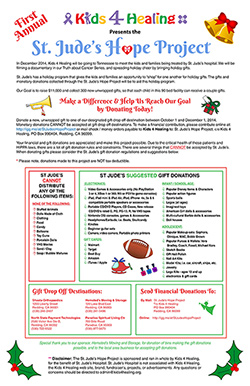 Donate Gits In Redding
***Donations must be in by December 1st, 2014***
Are you looking for a way to brighten up a child's holiday season? If you're in the Redding, California area, you can join the local organization, Kids4Healing, in supporting the St. Jude holiday donation program. The program is collecting gifts and donations for children who wont have a Christmas otherwise.
Shasta Orthopaedics in Redding is proud to be a drop-off location for donations:
Shasta Orthopaedics
1255 Liberty Street
Redding, CA 96001
(530) 246-2467
Visit the Shasta Ortho blog to learn more about the Holiday Donation Program »