FREE: Concussion Lecture In Redding, California
Posted on
August 13, 2014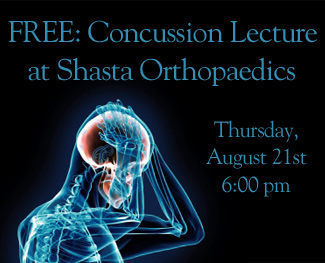 Shasta Orthopaedics Concussion Lecture
Are you a coach, a trainer, an athlete, or a parent of an athlete who is interested in getting informed about concussions? Shasta Orthopaedics in Redding, California, is holding a lecture to provide the latest information regarding concussions, injury causes, diagnoses, treatment and management.
When: Thursday, August 21, 2014 at 6 PM
Where: Shasta Orthopaedics & Sports Medicine's office located at 1255 Liberty St., Redding, CA.
To learn more about the event, or to get your free tickets to the event, visit the Shasta Ortho Sports Medicine Blog »